IFCC free Webinar
3rd May, 2023
"Active Learning Strategies in Clinical Chemistry
and Laboratory Medicine"
Certificate of Participation available for all registrants!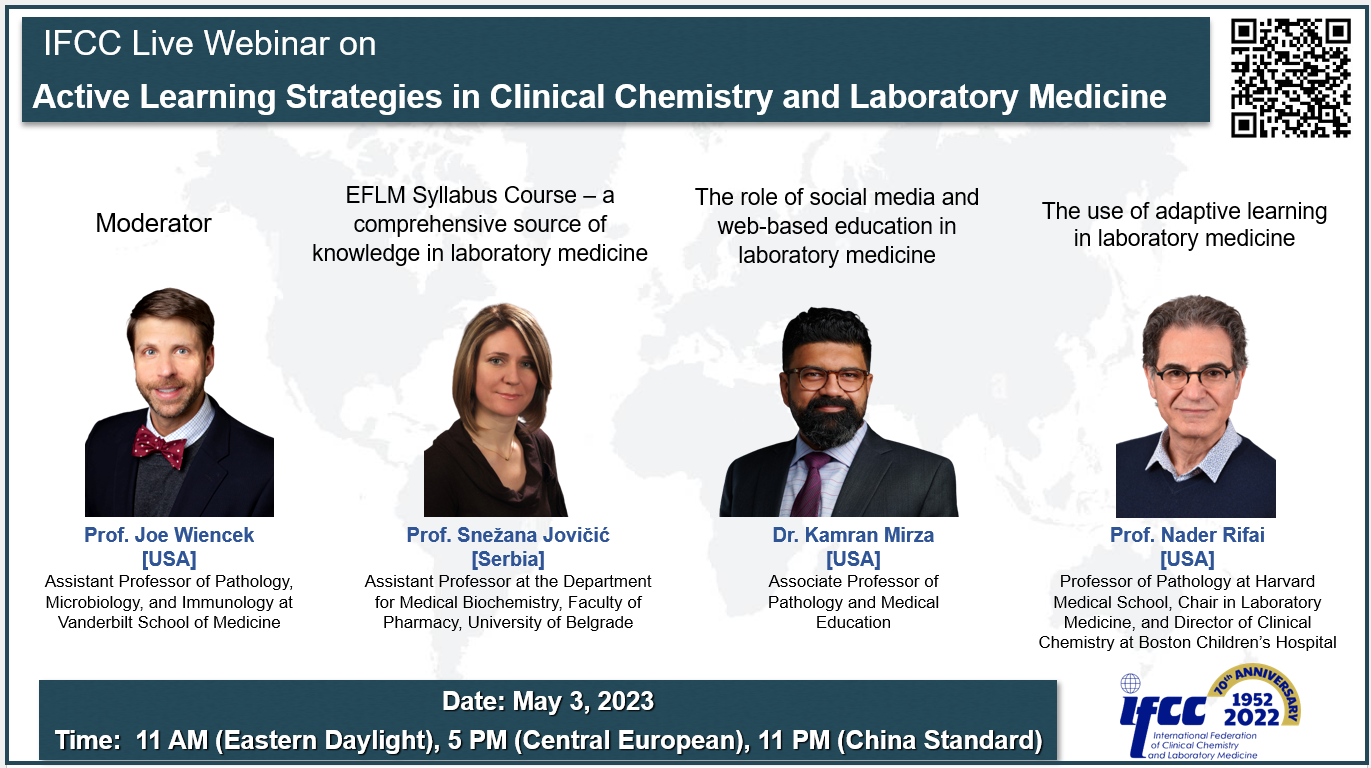 Dear Colleagues,
The next IFCC webinar:"Active Learning Strategies in Clinical Chemistry and Laboratory Medicine"  May 3, 2023.
There are many obstacles to teaching clinical chemistry and lab medicine. The large scope and non-standardized educational materials, traditional passive teaching methods and unrefined feedback strategies tend to be educational barriers. Fortunately, there has been several dedicated efforts to standardize postgraduate education and develop free online and adaptive learning resources. To support the harmonization of postgraduate education of specialists in laboratory medicine, the European Federation of Laboratory Medicine Task group for Syllabus course (TG-ESC) developed a Syllabus consisting of more than 40 modules and over 300 lectures on various topics in lab medicine. In addition, the use of expert curated, free educational materials through sites like pathelective.com and Twitter have led to a growth of global participation and awareness of lab medicine and pathology. Lastly, the creation of the Learning Lab through the partnership of New England Journal of Medicine, Clinical Chemistry and Area9 has provided the most advanced adaptive learning resource in lab medicine that is freely available for educators and trainees with >110 courses already available.
Educators must commit to learning effective teaching strategies to prepare our learners for career success. By doing so we can ultimately build foundational and higher-order thinking skills in a broad, complex and sometimes less emphasized subject matter within medicine. In this live IFCC webinar, we will address current challenges in teaching clinical chemistry and lab medicine, especially with the rise of online learning during the COVID-19 pandemic. Additionally, we will present successful pedagogic frameworks used to teach clinical chemistry and lab medicine with emphasis on learner-centered engagement and feedback, structured curriculum, clear learning goals and, most importantly, committed teachers.
This webinar comprises of three following presentations of 20 min each followed by 20 min of panel discussion at the end.
Chair: Prof. Joe Wiencek
Talk 1- "EFLM Syllabus Course – a comprehensive source of knowledge in laboratory medicine"  Prof. Snežana Jovicic
Talk 2- "The role of social media and web-based education in laboratory medicine" Dr. Kamran Mirza
Talk 3- "The use of adaptive learning in laboratory medicine" Prof. Nader Rifai
Schedule: 20 min per speaker plus 20 min panel discussion
Time Zones: Live presentations starting at: 11:00AM EDT-New York ; 5:00PM CET-Rome; 11:00PM CST-Beijing;
Important: Please ensure that you carefully determine the time that the presentation will start in your global time zone. Click here to convert to your time-zone.
Recorded webinar: available on demand
Certificate of participation: available for all registrants
Stay connected with IFCC & get all the latest information on IFCC live Webinars!
Subscribe at the IFCC contact page.
Follow us on:
Advancing excellence in laboratory medicine for better healthcare worldwide