IFCC free Webinar
11th May, 2022
"A Global Perspective on Health Inequities in Laboratory Medicine"
Certificate of Participation available for all registrants!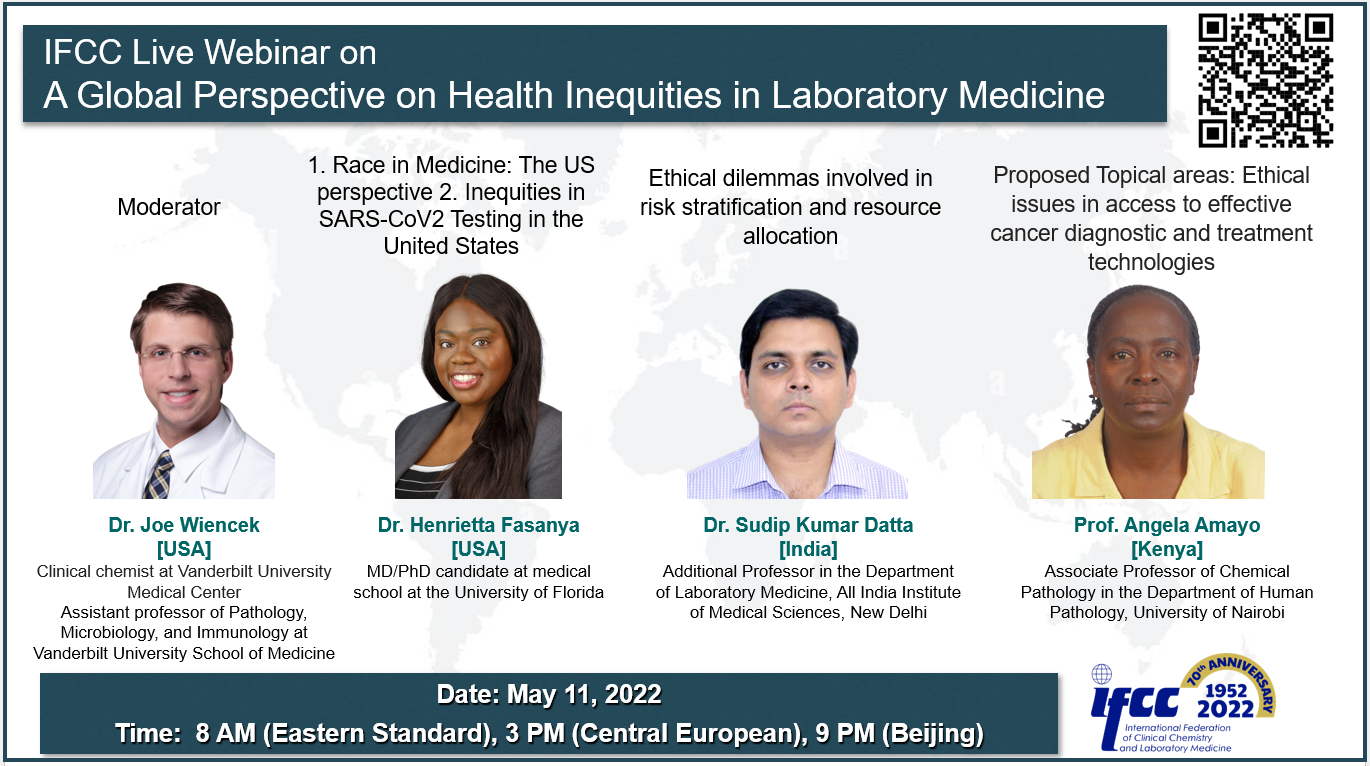 Dear Colleagues,
The next IFCC webinar: "A Global Perspective on Health Inequities in Laboratory Medicine" will be held on 11 May, 2022.
Health inequities are a global concern. Each area of the world faces unique as well as systemic challenges. This webinar will consist of three speakers from three separate continents, and their goal will be to present their perspectives on historical and current issues they encounter in each of their respective areas in regards to health inequality.
The first speaker (USA) will present on the use of race in medicine, with a focus on the genetic and sociocultural associations. It has long been understood that race is a social construct and recent advances in genomics demonstrate that there is often higher intraracial than interracial genetic variation. Despite this, race is often discussed as a proxy for genetic differences. This talk will focus on how race, ethnicity, and genetic ancestry is discussed in science and medicine. This conversation will be followed by a presentation on the disparities seen in the United States in regard to SARS-CoV2 positivity rates in the United States. Her talk will highlight the racial, geographical, and socioeconomic disparities seen during the early stage of the pandemic and their effect on vaccination rates.
The second speaker (India) will present on the challenges faced by the Laboratory Medicine community during the resource constraints faced during the pandemic during the last two years in terms of risk stratification and resource allocation. The scenario would be discussed with objective examples from India and how solutions were evolved. The speaker would also discuss the dilemmas faced by the people involved in those settings.
Lastly, the third speaker (Kenya) will focus on ethical issues in access to effective cancer diagnostic and treatment technologies.  Unfortunately, the high cancer morbidity and mortality in developing world is partly due to lack of advanced diagnostic technologies and new cancer therapies.
This webinar comprises of three following presentations of 20 min each, followed by 20 min of panel discussion at the end where the speakers will answer to your questions.
Moderator: Dr. Joe Wiencek
Talk 1: "1. Race in Medicine: The US perspective 2. Inequities in SARS-CoV2 Testing in the United States" – Dr. Henrietta Fasanya
Talk 2. " Ethical dilemmas involved in risk stratification and resource allocation" – Dr. Sudip Kumar Datta
Talk 3: " Proposed Topical areas: Ethical issues in access to effective cancer diagnostic and treatment technologies." – Prof. Angela Amayo
Schedule: 20 min per speaker plus 20 min panel discussion
Time Zones: Live presentations starting at: 9:00AM EDT-New York ; 3:00PM CET-Rome; 9:00PM CST-Beijing;
Important: Please ensure that you carefully determine the time that the presentation will start in your global time zone. Click here to convert to your time-zone.
Recorded webinar: available on demand
Certificate of participation: available for all registrants
Stay connected with IFCC & get all the latest information on IFCC live Webinars!
Subscribe at the IFCC contact page.
Follow us on:
Advancing excellence in laboratory medicine for better healthcare worldwide