Next IFCC complimentary Webinar
"Ethical dilemmas in laboratory medicine
during pandemic"
will be held on 20th October, 2021
Certificate of Participation available for all registrants!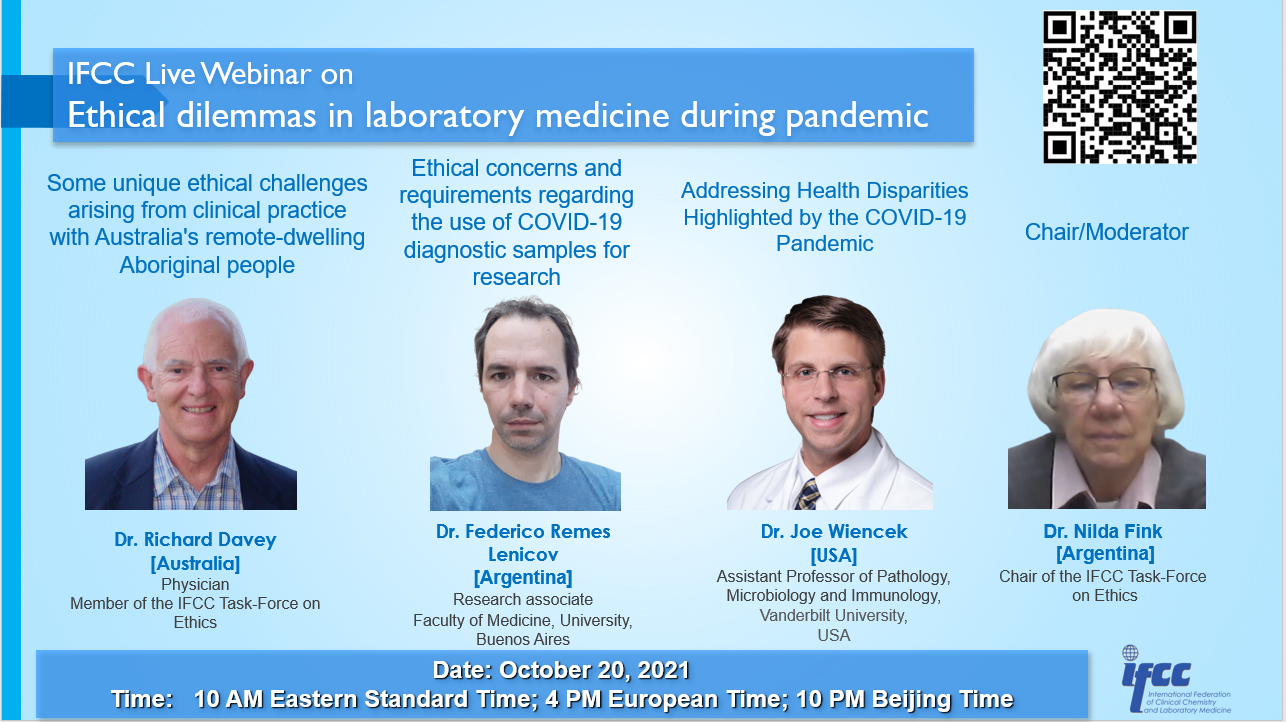 Dear Colleagues,
The next IFCC webinar: "Ethical dilemmas in laboratory medicine during pandemic"
will be held on 20 October, 2021.
With its Task Force on Ethics, the IFCC creates a collective voice for ethical issues in Laboratory Medicine and raises awareness of ethics-related issues. The COVID 19 pandemic tests our professional responsibility and demands that we do not simply perform tests and use technology uncritically. In this webinar we will first talk about the causes of the profoundly reduced life expectancy Australia's remote-dwelling Aborigines and describe demands upon the medical practitioner that are so fundamental that they are rarely encountered in "urban" medicine. Then we will concentrate on how the Covid-19 pandemic is changing the research and society, focusing on the use of remnant clinical samples for research, often exempted from informed consent and the idea of collaboration with scientific research as a moral duty. Finally, as this pandemic has emphasized many long-standing inequities in communities we will highlight the impact of long-standing medical conditions, challenges of testing and contact tracing, mistrust of medical institutions and vaccines. Is this the time to propose a paradigm shift in research ethics?
The Webinar will consist of three talks (20 minutes each) and will be followed by the panel discussion. Registrants will be able to ask questions to the presenters.
Chair: Dr. Nilda Fink
1. 'Some unique ethical challenges arising from clinical practice with Australia's remote-dwelling Aboriginal people'  – Dr. Richard Davey
2. 'Ethical concerns and requirements regarding the use of COVID-19 diagnostic samples for research' –  Dr. Federico Remes Lenicov
3. ' Addressing Health Disparities Highlighted by the COVID-19 Pandemic'  – Dr. Joe Wiencek
Please feel free to share this event in your social media with #IFCCLive Webinars
Schedule: 20 min per speaker plus 20 min panel discussion
Time Zones for 20 October: Live presentations starting at: 10:00 AM EDT – 11:00 AM Buenos Aires- AR; 4:00 PM European Time; 7:30 PM India; 10:00 PM CST-Beijing
Important: Please ensure that you carefully determine the time that the presentation will start in your global time zone. Click here to convert to your time-zone.
Recorded webinar: available on demand
Certificate of participation: available for all registrants
Stay connected with IFCC & get all the latest information on IFCC live Webinars!
Subscribe at the IFCC contact page.
Follow us on: