Don't miss it! 4th November, 2020
Mark on your agenda next IFCC webinar!
Registration link soon available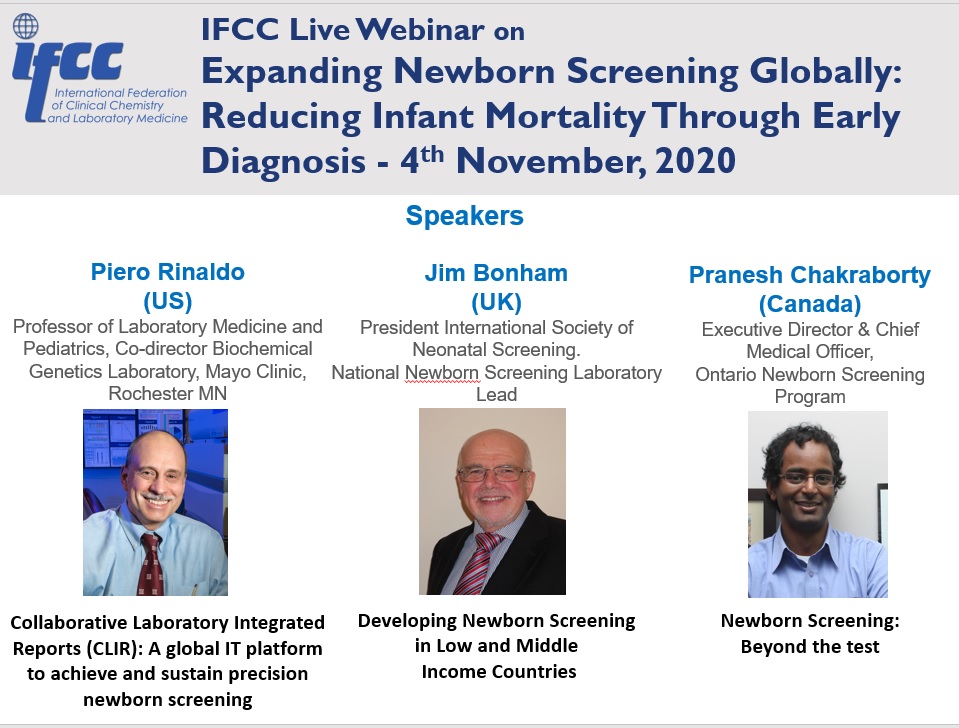 Chair-Moderator: Khosrow Adeli (Canada)
Professor of Clinical Biochemistry, University of Toronto, President IFCC
Schedule: 20 min per speaker plus 20 min panel discussion
Date: 4th November, 2020
Time Zones: Live presentations starting at 9 AM Eastern Standard Time; 3 PM European Time; 10 PM Beijing Time
Important: Please ensure that you carefully determine the time that the presentation will start in your global time zone. To calculate this, you can use the time zone converter tool at: www.timeanddate.com/worldclock/converter.html.
Recorded webinar: available on demand
Certificate of Participation: available for all registrants
Newborn screening (NBS) reduces infant morbidity and mortality by initiating early detection, treatment, and management of newborns with congenital disorders. Unfortunately, only about one third of infants around the world receive screening at birth, leading to significantly increased risk of disease during childhood and/or adulthood.
The IFCC organization has made NBS a major focus of its new strategic plans and is happy to present a LIVE webinar session on November 4th entitled: Expanding Newborn Screening Globally: Reducing Infant Mortality Through Early Diagnosis.
This event will bring together three distinguished and world-renowned speakers who will present on the state of newborn screening around the world including: Professor Piero Rinaldo (USA), Professor Jim Bonham (UK), and Professor Pranesh Chakraborty (Canada). We invite all scientists, physicians, laboratory professional, corporate representatives and young scientists/trainees to join us in this important event which will be presented LIVE around the world.
The webinar will conclude with a panel discussion and the webinar recording will be available for those unable to attend on the live date.
Please ensure you register to attend the live event and have access to the recording.
Registration link soon available!
Stay connected with IFCC & get all the latest information on IFCC live Webinars!
Subscribe at: http://www.ifcc.org/contact/
Follow us on: