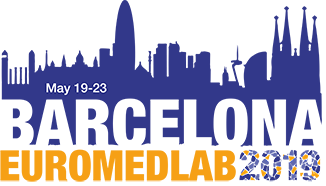 May 19-23, 2019 – CCIB, Barcelona – Spain
ABSTRACT SUBMISSION DEADLINE:
January 15th, 2019
23rd IFCC-EFLM European Congress of
Clinical Chemistry and Laboratory Medicine National Congress of the Spanish Society of Laboratory Medicine
DON'T MISS THE OPPURTUNITY 
Confirmation of receipt of the abstract will be acknowledged by e-mail immediately after submission.
Authors will be notified of acceptance or rejection before 28th February 2019.
The presenting author of each abstract must register for the congress with "Full Registration" until 31 March 2019.