6th April, 2021
Mark on your agenda next IFCC webinar!
Don't miss it!
Registration link soon available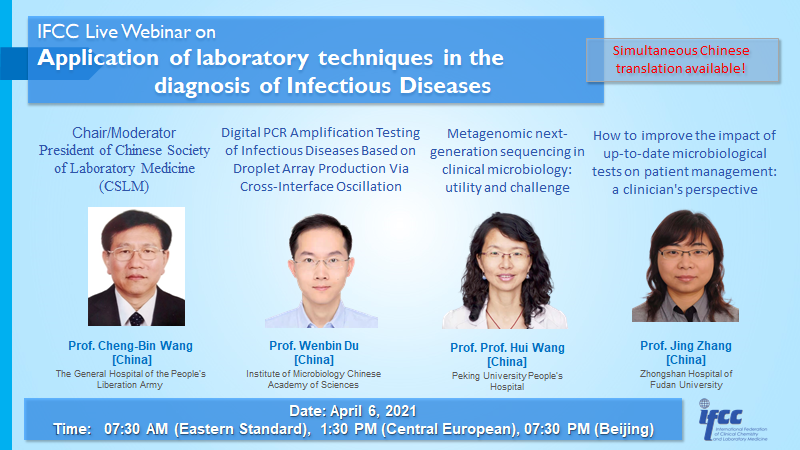 Infectious diseases are one of the most intimidating threats, responsible for an immense burden of disabilities and deaths. Identification of pathogens through rapid, specific, sensitive, and cost-effective diagnostic tools is key for successful therapeutic interventions. This webinar will focus on recent laboratory techniques including metagenomic Next‐Generation Sequencing (mNGS) and digital PCR in the diagnosis of infectious diseases.
Please ensure you register to attend the live event and have access to the recording and to the certificate.
Registration link soon available!
Schedule: 20 min per speaker plus 20 min panel discussion
Time Zones: Live presentations starting at 7:30 PM Beijing Time; 7:30 AM Eastern Time US; 1:30 PM European Time
Important: Please ensure that you carefully determine the time that the presentation will start in your global time zone. To calculate this, you can use the time zone converter tool at: www.timeanddate.com/worldclock/converter.html.
Recorded webinar: available on demand
Certificate of Participation: available for all registrants
Stay connected with IFCC & get all the latest information on IFCC live Webinars!
Subscribe at: http://www.ifcc.org/contact/ Follow us on: